There are several ways you can make use of the product feed to list our products onto your own website or market place. Before we proceed on the various methods of integration, let's see how to create a feed and manage it.
Your browser does not support the video tag.


a) How to Create Feed
(1) New feed can be created by clicking on the tab Create New Feed
(2) Enter feed title eg: GoldJewelry
(3) Enter feed URL. This can be your site/store/marketplace url eg: www.GoldJewelry.com
(4) Choose the Inventory(s) that you wish to include in this product feed
(5) Click Save to continue
b) How Manage Feeds
This lists down all of the feeds that has been created by you. You will be able to edit/update/remove feeds from here.

(1) The following operations can be performed in manage feed section.
a) Download feed (user can select the feed formats)
b) Edit feed
c) Delete feed
(a) Download feed
Follow the steps below to download a feed of the desired type.
i. Select the Feed
ii. Select the download option from the dropdown list XML, XLS, CSV, Turbolister & Amazon Feed
iii. Click on Download
Once the process gets completed the feed gets downloaded to the user machine.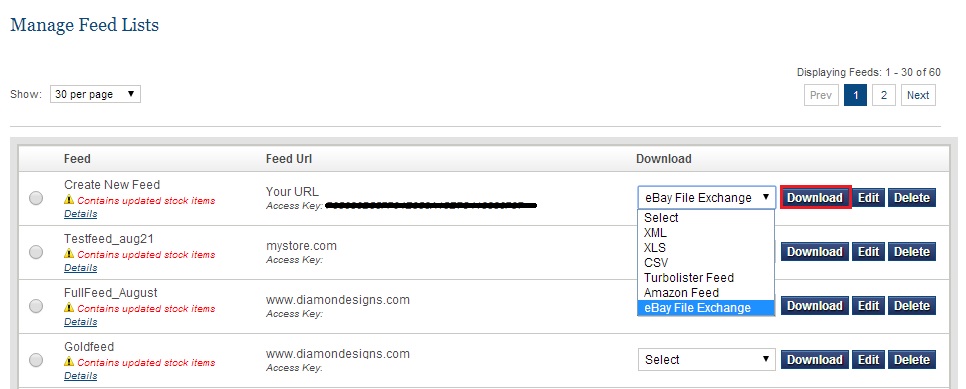 (b) Edit existing feed
i. Select the feed to be edited
ii. Update feed information or inventory information
iii. Save changes
(c) Remove Feed
(c) How to manage Stock Updates
This gives you information on the latest stock updates in the selected feed. You can get this information by clicking on the Feed Details unde the feed title.
The following feed updates can be downloaded from here.
i. Download Stock Inventory Updates (Amazon compatible)
ii. Download Product Updates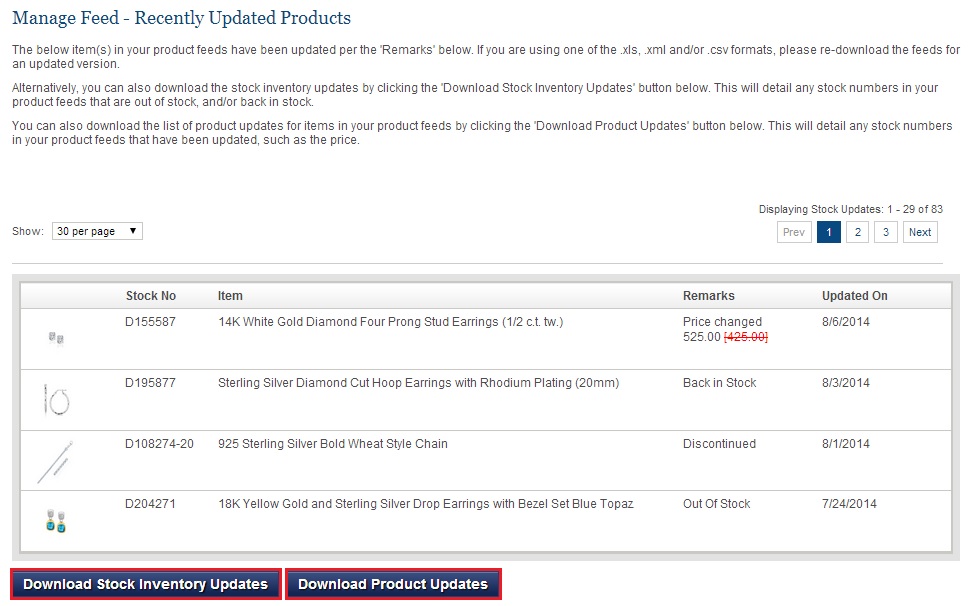 (d) How to use a Amazon feed
The Amazon feed file that you will be downloading is in .csv (excel) format. Before uploading this onto using your Amazon Seller Central account, you will need to convert it to a text delimited file. To do so, open your feed file in Microsoft Excel.
Go to File and Save As...
Under 'Save as type' , select the following file type: Text (Tab delimited) (*.txt)
Once the file is prepared, login to your Amazon Seller Central account. To upload the inventory file in bulk, go to:
Click on the Inventory tab
Select Add Products via Upload
On this page, you can select the file to upload under the 'Upload inventory files' section.
In the drop-down,select 'Inventory Files for non-Media Categories'
Browse to the location of your amazon feed file that you saved in tab delimited format.
Click Upload Now
e) How to use eBay File Exchange
eBay File Exchange is an advanced selling tool designed for high-volume sellers who want to upload their inventory directly to eBay using a Microsoft Excel-compatible .csv or tab-delimited file.
You can use eBay File Exchange to add, revise, relist, and end items in bulk, as well as perform post-sale management tasks such as leaving feedback and identifying items as "paid" or "shipped".
Goto File Exchange
Sign in if required on the next page
Agree to the terms and conditions of use
You are now ready to start using File Exchange




When the upload is completed you should be informed as to how many revisions were made and the success rate, however as i've found Ebay will often tell you the revisions were made when in fact if you download the more detailed view you will find everything failed. In the screenshot below we can see everything appears to have processed fine.




The "Load Results Report" provides information regarding successful and unsuccessful.