There are several ways you can make use of the product feed to list our products onto your own website or market place. Before we proceed on the various methods of integration, let's see how to create a feed and manage it.
Your browser does not support the video tag.


a) How to Create Feed
(1) New feed can be created by clicking on the tab Create New Feed
(2) Enter feed title eg: GoldJewelry
(3) Enter feed URL. This can be your site/store/marketplace url eg: www.GoldJewelry.com
(4) Choose the Inventory(s) that you wish to include in this product feed
(5) Click Save to continue
b) How Manage Feeds
This lists down all of the feeds that has been created by you. You will be able to edit/update/remove feeds from here.

(1) The following operations can be performed in manage feed section.
a) Download feed (user can select the feed formats)
b) Edit feed
c) Delete feed
(a) Download feed
Follow the steps below to download a feed of the desired type.
i. Select the Feed
ii. Select the download option from the dropdown list XML, XLS, CSV, Turbolister & Amazon Feed
iii. Click on Download
Once the process gets completed the feed gets downloaded to the user machine.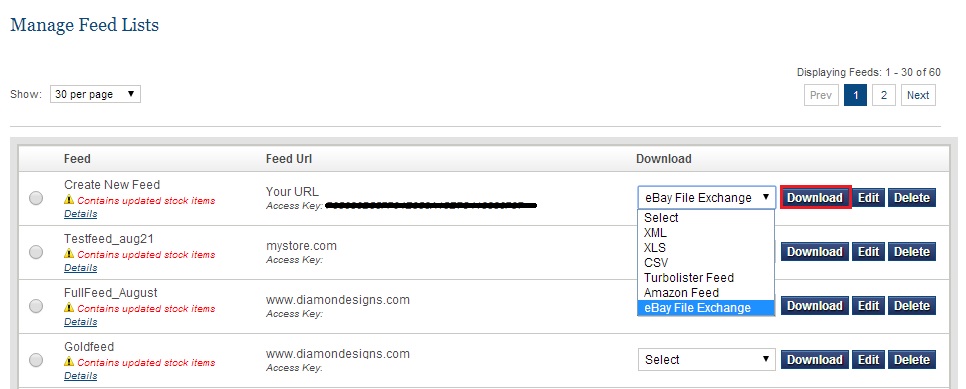 (b) Edit existing feed
i. Select the feed to be edited
ii. Update feed information or inventory information
iii. Save changes
(c) Remove Feed
(c) How to manage Stock Updates
This gives you information on the latest stock updates in the selected feed. You can get this information by clicking on the Feed Details unde the feed title.
The following feed updates can be downloaded from here.
i. Download Stock Inventory Updates (Amazon compatible)
ii. Download Product Updates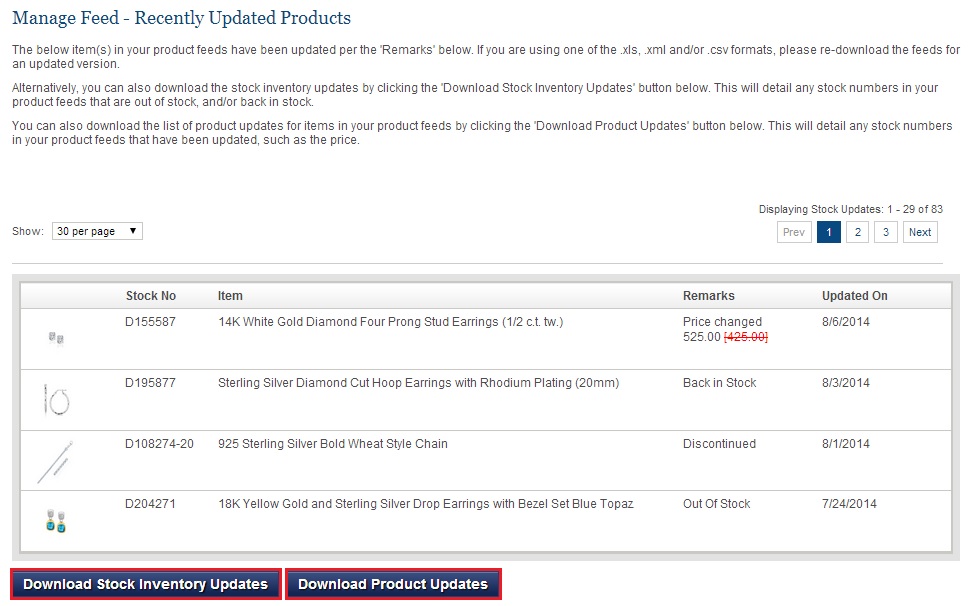 (d) How to use a Amazon feed
The Amazon feed file that you will be downloading is in .csv (excel) format. Before uploading this onto using your Amazon Seller Central account, you will need to convert it to a text delimited file. To do so, open your feed file in Microsoft Excel.
Go to File and Save As...
Under 'Save as type' , select the following file type: Text (Tab delimited) (*.txt)
Once the file is prepared, login to your Amazon Seller Central account. To upload the inventory file in bulk, go to:
Click on the Inventory tab
Select Add Products via Upload
On this page, you can select the file to upload under the 'Upload inventory files' section.
In the drop-down,select 'Inventory Files for non-Media Categories'
Browse to the location of your amazon feed file that you saved in tab delimited format.
Click Upload Now
(e) How to use a eBay Turbolister feed
If you have an eBay account/store, you can download the Turbolister feed format to upload your feed in bulk to your account/store via the Turbolister listing tool provided for FREE by eBay.
If you do not currently have Turbolister, you can download it from here. At this point, the Turbolister application is only supported on Windows platform and cannot be used on Mac operating systems.
Download Turbolister and install it locally on your machine. (Double-click the setupUS.exe to start installation.)
Once installed, open up the application and set up your profile which will be the first prompt the software will give you.
Set up your first file as shown.



To import your product feed file, highlight the Inventory window on the top left panel.

Go to File > Import Items > From File...
Browse to and select your downloaded Turbolister product feed file.

To import your product feed file, highlight the Inventory window on the top left panel.

Go to File > Import Items > From File...
Browse to and select your downloaded Turbolister product feed file.

In the Import From File window box, under Import Selected Fields, Select All fields except for ProductID.
Click the Import button which will import your items into Turbolister.




Please note that the feed file should be closed and not in use while doing the import or this step will fail.

Once imported, you will see your product feed items appear at the right hand window panel. Highlight selected or all of the items that you wish to upload to your live eBay account and click on Add to Upload.
The items will then appear under the Waiting to Upload section on the left hand side panel.
From Waiting to Upload, you can either:




Click on Calculate Fees if you wish to see the charges for your upload.
Or click on Upload All to upload the items to your live eBay account. You will be prompted about the fees that you will be charged. Click Ok to continue.

Once the upload is complete, the items will appear under the Listing Activity window panel under Active Listings. You should now also be able to access your items via your storefront.
Customizing your Turbolister Feed File
You can make configurations to your turbolister feed file if you wish. Below are explanations of some of the fields to help you.
Columm Name
Explanation of usage
Site
This indicates the country site where you will be uploading your products to. 0 is for eBay US. See below for additional values for various countries:
eBay Canada = 2
eBay UK = 3
eBay Australia = 15
Format
Indicates the format of your eBay listing. 9 indicates a Fixed Price format. You can set this to 1 for Auction format.
Currency
Indicates the currency of the listing. 1 indicates USD. Additional values:
CAD = 2
GBP = 3
AUD = 5
EUR = 7
Title
The item title
Description
The item description
SubtitleText
A secondary field to the title, which appears in search results for an item. Max character length is 55. Additional fees apply for this field.
Category 1
This is the category in which your listing appears in. If you wish to edit this, you can look up the category ID options here.
Category 2
Additional category which you want your items to appear in. For a list of Category ID options, click here.
Store Category
If you have a custom store category, you can specify the custom ID here. By default this is set to 1 to indicate 'Other'.
Starting Price
Item price
Duration
The listing duration. By default this is set to GTC (Good Til Cancelled). Other possible values are: 1, 3, 5, 7, 10, 30 (days).
Payment Instructions
Any special payment instruction that you would like to add to your listings. Max character length is 500.
PayPal Email Address
Your paypal email address. By default this is set to your account email.
Location - Country
The location of the item. By default this is set to the Country specified in your account.
ThemeId
A list of themes available from eBay can be found here. By default, this is populated with 27 which is the 'Jewelry-Blue' theme
ShippingServiceOptions
This is an encrypted field and by default sets the Shipping & Handling to Free Shipping. If you want to modify this, edit one of your listings manually via Turbolister, then export the file into a Turbolister file (Under File>Export) and copy the encrypted value in your exported Turbolister file as the value in this field.
Zip
The location of the item. By default this is set to the zip code specified in your account.
DispatchTimeMax
Specifies the handling time in business days.
BuyerRequirementDetails/MaximumUnpaidItemStrikesInfo/Count
This specifies the maximum number of unpaid strikes a user can have during a specified period (see field below). By default this is set to 2. Other possible values are 3, 4 or 5.
BuyerRequirementDetails/ MaximumUnpaidItemStrikesInfo/Period
This specifies the period during which a user can incur a specific number of unpaid strikes (see field above). By default this is set to 30 days (Days_30).
SellerTags
This field contains details of Item Specifics that appear in your listing in XML format. These can be edited as you wish but need to be given in correct XML syntax. You can use an XML editor to validate the syntax.
ReturnsAccepted
Indicates whether returns are accepted or not. By default this is set to 1 to specify that returns are not accepted. Set to 0 if you accept returns.
ReturnsWithin
The length of time in which returns are accepted. Possible values are Days_14, Days_30, Days_60.
Refund
Indicates how a refund is given to a user. Possible options are MoneyBack or MoneyBackorExchange.
Variations
Specifies the size variations and any dependencies on size variations (such as gram weight). Can be edited, however syntax needs to be valid XML syntax.
You can also manually edit individual listings in Turbolister directly by right-clicking the listing under Waiting to Upload, and choosing Edit...
f) How to use eBay File Exchange
eBay File Exchange is an advanced selling tool designed for high-volume sellers who want to upload their inventory directly to eBay using a Microsoft Excel-compatible .csv or tab-delimited file.
You can use eBay File Exchange to add, revise, relist, and end items in bulk, as well as perform post-sale management tasks such as leaving feedback and identifying items as "paid" or "shipped".
Goto File Exchange
Sign in if required on the next page
Agree to the terms and conditions of use
You are now ready to start using File Exchange




When the upload is completed you should be informed as to how many revisions were made and the success rate, however as i've found Ebay will often tell you the revisions were made when in fact if you download the more detailed view you will find everything failed. In the screenshot below we can see everything appears to have processed fine.




The "Load Results Report" provides information regarding successful and unsuccessful.