Create and Manage Inventory
Inventories help you to create the catalogue with desired set of products or product categories. In this section we will cover the following
Watch The Video
Your browser does not support the video tag.
a) How to create an inventory.
1) From the Inventory Tab , click on the Create New Inventory List to create a new inventory.
(2) Enter Inventory Name for the new one eg: GoldJewelry
(3) Select desired product Categories. You may choose all or any among the following categories.
a) Diamond or
b) Gold or
c) Silver or
d) Jewelry or
(4) Click Save to continue
Once saved, your new inventory has been created.
b) How to manage your inventories.
This displays you the list of inventories you have created till date. Here you can edit/update all your existing inventories.
(1) Click on Manage Inventory Lists
(2) The following operations can be done to an existing inventory
a) View/Edit
b) Add/Remove Categories
c) Delete
(a) View/Edit tab shows detail information on the selected inventory where in you can update categories/Products. You have the option to Select All or specific ones and then click on REMOVE FROM INVENTORY Tab to delete the selected stock from the inventory.
i. Click on View / Edit tab
ii. Click on Select All or click on Checkbox for single selection
iii. Click on Remove From Inventory
(b) Click on Add/Remove Categories to update the inventory category. Categories already selected will be highlighted.
i. Click on Add/Remove Categories
ii. Select or deselect the Categories
iii. Click Save Changes to continue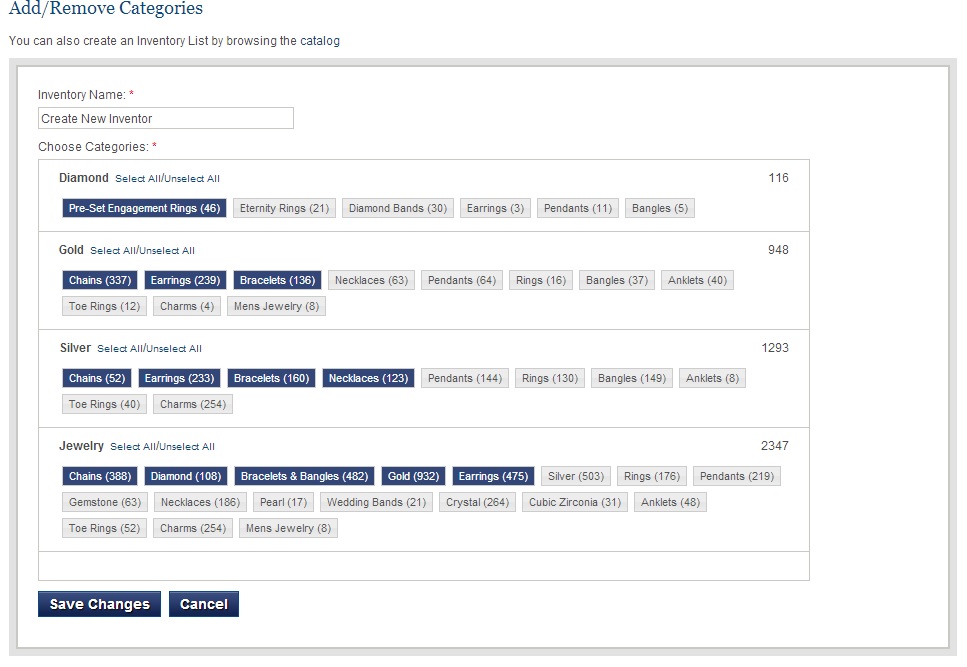 (c) Click on Delete (will give you the option Are you sure you want to delete GoldJewelry inventory? Yes or No).